Canyoning and climbing in the Reunion island
Adventures Reunion is an entertainment company located in Reunion island, a french territory in the Indian Ocean. We are a mountain sports provider.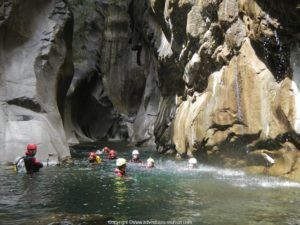 From the most beautifuls canyoning tour of Reunion island (Trou blanc, Fleurs jaunes, Sainte Suzanne (Bassin Boeuf), Rivière des Roches, Langevin, and Bras Rouge canyon) to the most beautiful excursions in the mountains (3 Salazes edge, Piton Maïdo, Pitons Neiges/Gros Morne edge …), and the most fantastic climbing sites (Piton de Sucre), we give you access to the most wonderfull sites of Reunion.
Our island, primarily known for its beautiful beaches and the "Piton de la Fournaise" volcano , is also home of marvelous, natural, preserved and wild areas.
Discover them with us !
---
ADVENTURES REUNION  it's "Adrenalin & fun" in the greatest security.
Call and visit us !
The outings already scheduled are indicated in the calendar at the bottom of the page with the remaining bookings. Contact us to book an outing for another date.