Canyoning and climbing in the Reunion island
Come canyoning with Adventures Reunion  an entertainment company located in Reunion island, a French territory in the Indian Ocean. We are a mountain sports company.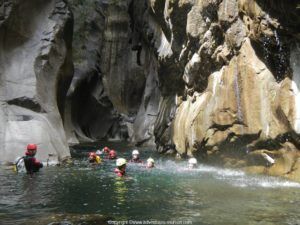 Canyoning and gorge walking are two activities certainly two very playful activities that take place in a grandiose scenery, using preserved rivers and torrents. You can discover with us the most beautiful canyoning courses of Reunion island (Trou blanc, Fleurs jaunes, Sainte Suzanne (Bassin Boeuf), Rivière des Roches, Langevin, and Bras Rouge canyon).
We accompany you in the most beautiful alpine excursions in the Reunion mountains (3 Salazes ridge, Piton Maïdo, Pitons Neiges/Gros Morne ridge …). We will also climb with you the most fantastic crags (Piton de Sucre) of the area.
We give you access to the most wonderful and preserved sites of Reunion island which will amaze you.
HOW DOES IT WORK IN PRACTICE ?
– Small groups : 8 persons maximum for one professional certified guide
– Price includes :
+ VAT (Value Added Tax)
+ Technical equipment (helmet, harness, descender, carabiners…), wet suit
+ Photos/videos for free
+ Supervision by a professional guide with 16 years of experience
+ Professional liability insurance
– Payment by bank transfer or cash
– Please note that transport is not included.
We offer tours of all levels (beginner / family to expert) and all rates, starting at 35 €.
Canyoning is possible starting from 8 years old, the only condition is to know how to swim.
Climbing is possible starting from 6 years old.
Our island, primarily known for its beautiful beaches and the "Piton de la Fournaise" volcano , is also home to marvelous, natural, preserved and wild areas.
Discover them with us !
---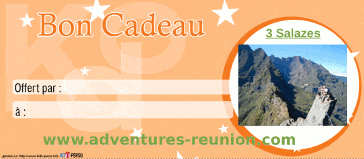 You can offer a gift certificate for all our activities (canyoning, gorge walking, climbing, 3 Salazes …..).
A great gift idea, for friends and family ! Valid until use.
---
ADVENTURES REUNION  it's "Adrenaline & fun" with the greatest safety.
Call and visit us !
The outings already scheduled are indicated on the calendar at the bottom of the page with the remaining bookings. Contact us to book an outing for another date.